FOR IMMEDIATE RELEASE
CRL-U.S. Aluminum Hosts Building Enclosure Council for a Continuing Education Plant Tour in Los Angeles, California
Leading Manufacturer of Architectural Glazing Systems Welcomed Local Architects, Façade Consultants, and Contractors to its Headquarters
LOS ANGELES, CA - APRIL 15, 2016 - CRL-U.S. Aluminum was pleased to welcome the Los Angeles chapter of the Building Enclosure Council (BEC) for a tour of its premier manufacturing facilities. The central focus of the tour was to discuss building envelope best practices and product solutions in a collaborative environment.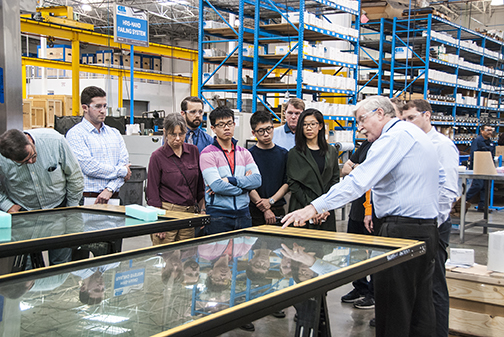 The BEC was established in 2004 to promote and encourage discussion, training, and education on all matters concerning building enclosures. As a leading supplier of aluminum fenestration products including curtain walls, storefronts, windows, and entrance systems, CRL-U.S. Aluminum was an ideal venue to host the group's meeting."

The tour showcased CRL-U.S. Aluminum's fabrication and distribution capabilities, and granted participants AIA Continuing Education credits. Paul Daniels, the company's Senior Vice President of Sales, was the primary presenter. CRL product and design specialists were also on hand to provide technical support and insight into current application issues. Topics discussed included manufacturing best practices, trends in design and function, thermal performance, water management, Title 24, and additional code compliance.
"Increasingly stringent energy code requirements pose new challenges that the glazing industry must meet head on," said Paul Daniels. "Welcoming the BEC to our facilities provides a platform to educate architects on ways in which glass and our aluminum capabilities can enhance a façade's energy performance, while allowing them to achieve their design intent."

To learn more about CRL-U.S. Aluminum curtain walls, storefronts, and entrance systems, call (800) 421-6144 ext. 5305, or email usalum@crlaurence.com. You may also visit usalum.com. For more information on the BEC, visit bec-losangeles.org.
###
Press Contact:
Andrew Haring
Vice President of Marketing
andrew_haring@crlaurence.com
(323) 588-1281
---